USING KINKY HAIR as LOC EXTENSIONS
Posted on 21 January 2014
As a loctician I have seen it all when it comes to locz. From scary locz that have been matted together for years to locz so heavy, the person is going bald from all the weight. However, over the years more and more people are coming to me to create brand new locz or repair damaged ones. And just like any other hair extension, LE's make an "old head of hair" brand new and allows you to lengthen shorter locz or begin new ones to keep up with the rest of your natty family! With LE's, you can bypass all the neophyte stages of growing them and have long, beautiful locz within hours.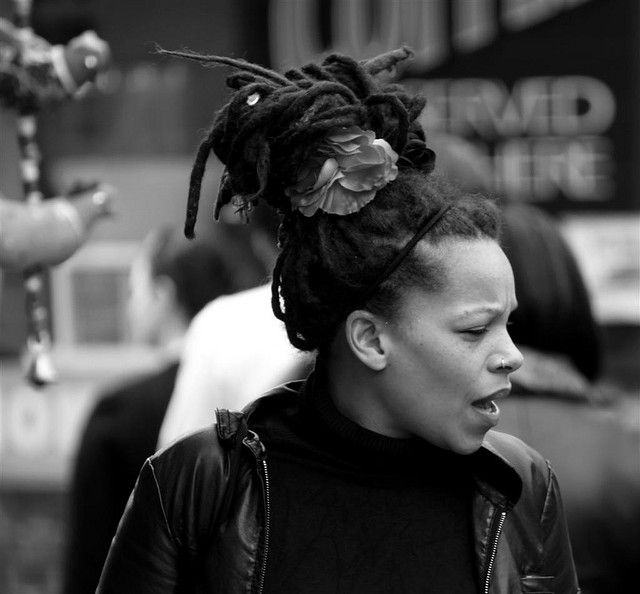 LE's add length and versatility to your hair which can be styled into up-twists, crowns, plaits, or even Bantu knots. If you ever made the mistake of cutting your locz but lovingly kept them for the "future", you can have them reattached to your hair. Remember, you can always help to repair broken, damaged or thinning locz by strengthening the hair via
healthy hair habits
and a
healthy balanced diet.
---
LET'S DREAD: MAKING YOUR OWN EXTENSIONS
First things first, wash your hair really good using a curd or African Black soap or Castile Soap (for any hair type) to make sure to remove all excess oil or hair-care products. Preparing your hair this way has two advantages: your locz will be prettier and loc'ing them is a bit faster. Do not use any conditioner on your hair or the extensions...ever. 
It will soften the extensions and they won't hold to your natural hair.
HERE'S WHAT YOU NEED: a Crochet Needle, QUALITY HUMAN HAIR AFRO BULK HAIR like Xotica Hair Afro Kinky Bulk hair for loc extensions (the extension hair should be kinky enough NOT to unravel once it's wrapped around your own hair) and an extra pair of hands.
HERE'S WHAT YOU DO:
1. Divide your hair into individual groups using a fine toothed comb; a finger sized loc looks best. Make sure to create even rows starting from the nape of the neck.You should be able to fit 5-8 locz on the first back row or less if you want ginormous ones (yes, some people do!)
2. Place the pre-made locs half way up the length or your hair,  insert your crochet needle into your hair and the loc extension. Move the needle in and out of the hair and the extensions turning the loc 
IMPORTANT: Don't use any wax, chemicals, matting-accelerator, adhesive or anything else to your hair.
3. Continue to move the needle in and out of the loc, (what this is doing is pulling your hair into the extensions fusing them together) It is important to pull the hair through from all sides.
HOW TO STAY LOC'D!
Everyone with Locz wants to make sure THEY STAY LOC'D but using over-the-counter
gels and balmz don't work for LE's.
Here's a great recipe for a LE butter you'll love. Coconut Oil is perfect for locz because it melts in your hands and leaves no build up!
WHAT YOU'LL NEED
4 oz Solid Virgin Coconut Oil
1 oz Jojoba Oil
4 drops Rosemary Oil Small glass or plastic (hard kind) Jar
1) Put Solid Coconut Oil with the measured amount in a small plastic or metal container.
2) Place in a bowl of boiled water and wait for it to melt.
3) Add the rest of the ingredients and pour into your desired jar.
4) Place in the fridge for 30-60 minutes, then remove.
Oil your locz, include your scalp and just enjoy!
Kris is a chef, writer, blogger, loctician and the author of 'Pretty Girls Have Problems Too!'
When she's not cooking, talking about locs, beauty or life as a chef, she spends her time soaking up The Bahamian Sun with her husband, two grown daughters, and a couple of toddlers thrown in to shake things up.
Check her out at

www.about.me/soulspace