PROS & CONS to HAIR EXTENSIONS
Posted on 03 February 2014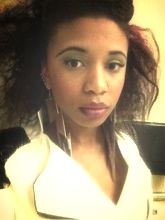 Hair extensions have come a LONG way and are becoming more and more popular! They can be braided in, sewed in, glued in, clipped in, or pinned down and generally serve one of two purposes: to add length or to add thickness.
They're fabulous for giving you access to a texture other than your own and covering up hair flaws. Here we will be discussing a few of the pros and cons to adding hair into your own head of hair!
Pros:
They can be a lifesaver for hiding hair mishaps or a haircut that may or may not have been such a great idea. I very recently turned to hair extensions to cover up a haircut that looked more like a mullet than an actual style – yikes!
A full head of extensions can help you retain length by giving your real hair a rest from daily styling and hot tools. Curling and straightening your extensions causes absolutely no damage to your own locks!
Versatility! If your hair is fine, adding extensions can open the door to styling options that you might not otherwise have. And vice versa, if your hair is extremely coarse, you can braid it up underneath and rock a straighter, less dense hair do!  
Maybe you've been coloring your hair for too long or recently got it relaxed but want to add a little color? Extensions can be both lightened (bleached) and colored to any color that your heart so desires!
They can be low maintenance! Nope, not NO maintenance but low maintenance, which can make your morning routine run a little more smoothly!
Cons:  
Depending on how often you purchase weave and on how often you get it redone, they can get a little pricy.
They can take some getting used to and may be a little uncomfortable at first. There is a bit of training yourself of what you can and cannot do with your new locks.
Sadly, when improperly installed or removed, they can be quite damaging. I think that most of us have seen hair loss and/or damaged or receding hair lines as a result of improper extensions maintenance. 

 
Overall I think it's a good idea to talk to your stylists about what extensions would work best of you, your hair, and your lifestyle. Only you can know if extensions are something that you'd like.
Ultimately the choice is yours!
This blog post is by Dominique-Alexis of Natural-Hair-Care-Info.com
 Dominique-Alexis is an eighteen-year-old blogger, aspiring hair stylist, and Paul Mitchell student. She has been blogging about the care and keeping of natural hair with her little sister for three years and plans on becoming a famous hair dresser for celebrities, teaching at hair shows, and educating African-American women to love themselves and love the beautiful curls that God blessed them with!
X